Worshiping the Lord Together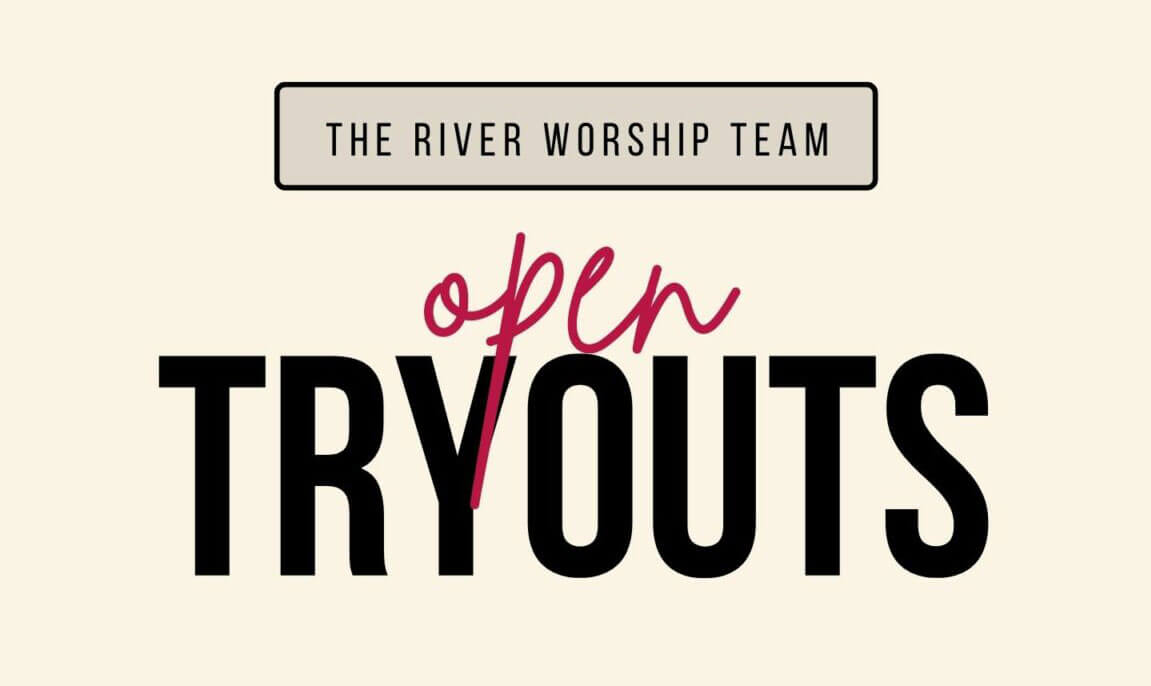 Are you interested to audition for The River Worship Team?
Join us on July 12th for Open Tryouts!
HOW TO GET STARTED:
Send in an audition video with two of the songs listed to michelleg@theriver.church.
Prepare for the in person audition.
Audition Tips
Please be fully prepared for your audition, knowing your parts on all four required songs (see below).
We play from chord charts.
We are looking to know that you can learn your part from listening to a recording.
Don't overplay.
Be able to receive direction/criticism, even if you don't agree with the suggestion.
SONGS TO LEARN/KNOW:
Do it again G
10,000 Armies D
Lion and the Lamb C
What a Beautiful name A
ELECTRIC & ACOUSTIC GUITAR
Pay attention to your tone and pedals – delay and overdrive – making sure that they line up appropriately with the musical style.
Stick to lead or rhythm for the entire song – alternating is okay.
Pay attention to strumming/picking patterns.
You will play to a click track metronome.
BASS
Lock in with the drummer, paying attention to the kick-snare pattern.
We will look to see that you know your patterns/parts even though you are auditioning without a drummer.
You will play to a click track metronome.
DRUMS
Lock in with the bassist, paying attention to the kick-snare pattern.
We will look to see that you know your patterns, even if you are auditioning without a bassist.
You will play to a click track metronome
KEYS
Familiarize yourself with sounds other than piano (e.g., pad, organ, Rhodes, etc.)
Think simple. Avoid overplaying.
Some songs have specific parts – know these parts rather than just chording.
ADDITIONAL INSTRUMENTS
Whereas we normally play with the above listed instrumentation, on occasion, we incorporate additional instruments, usually for special events/services.
Play like part of the group.
VOCALS
In your audition, you will be expected to sing the lead vocal and harmony parts, staying on your respective part. Please know the lead melody and harmony parts for the entirety of each song.
Pay attention to timing and style of vocal movements on the recordings.
Keep vibrato to a minimum.
REQUIREMENTS:
Have accepted Jesus as your Savior
Regularly attend Wednesday/Sunday services at The River.
Attend The River for a minimum of 3 months prior to serving.
Must be able to play to a click track (metronome).
Must bring your own in-ear headphones.
The River of Life Music Ministry
The music ministry at The River exists to bring honor and glory to God, and to help people to engage with God without distraction. We believe that as we encounter the transforming presence of God in corporate worship, we are changed and equipped to carry His reconciling presence into the world.
Currently the corporate worship team serves our Sunday AM and Wednesday night services. Our P828 youth band serves the youth services on Wednesday nights.
OPPORTUNITIES FOR ADULTS
The corporate worship team is open to adults, including high school and college students. We'd love you to join us in this expression of faith. If you have a talent for singing or playing an instrument, the adult worship team may be just the place for you to express yourself and use your God-given gifts.
MEDIA/TECH ARTS TEAM
The Media Team uses their gifts in the audio, video, lighting, and technology systems for services each week. With a blend of creativity and technical excellence, this team provides the behind-the-scenes support to create an engaging and worshipful experience.
Or, if you prefer to work behind the scenes and have a gift for technology, you might consider inquiring about one of our amazing ministry teams here.